Thermal camera
The camera uses infrared radiation to process, record and display temperature values - differences through a color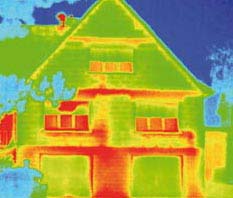 combination showing the thermal status of the target.
Thermal status is an indicator emitted by all bodies that consume and produce energy either living (eg human body) or nonliving (eg machinery, electrical equipment) and is directly related to good health or the right function respectively.
Thermography is a non-destructive method, a valuable tool for the engineer and the company, which can prevent unwanted situations that will be discussed further below.
OUR COMPANY PERFORMS THERMOGRAPHIC CONTROL IN ANY FORM OF BUSINESS AND SPACE.
The cost of a thermographic control is negligible if we consider the amount and importance of the findings, but above all the immediate benefits it offers.
• Reducing the risk of a fire.
• Long life equipment.
• Improving product quality.
• Avoiding interruption or delay in production due to cost.
• Reduce the likelihood of injury or loss of human life.
• Reduced Environmental Accident Risk.
• Improving risk profile in insurance contracts and at the same time lowering insurance premiums.
• Evidence in court cases.
• Obtaining a risk profile and the ability to contrast and evaluate.
The thermography test examines all of these mechanical components in all operating phases such as:
• Inspection of cooling and heating systems
• Engine inspection.
• Pump inspection.
• Detecting intellectual loss.
• Locating stressed bearings